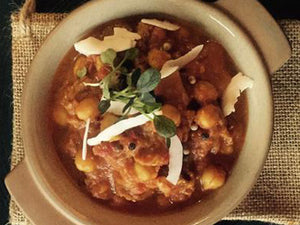 Moroccan Lamb Tagine
An unctuous, Slow-cooked Moroccan Lamb stew with a blend of aromatic spices, chickpeas, dates and apricots with Indian spice infused rice.

Serves 1
All ingredients are prepared and cooked by hand.
Ingredients: Prime Irish Lamb, onion, garlic, ginger, dried apricot, tomato, chickpeas,  coriander seed, cumin, clove, paprika , turmeric, cinnamon,star anise , dried dates, chilli powder, sunflower oil, salt & pepper.
Allergens: none
Reheating Instructions:

 

For best results, cook from frozen.                   

To Reheat in Oven

: Oven fan 170'C *Electric 190'C *Gas 5 for 50 minutes. Pre-heat oven 170'C. Cook in centre of oven for 50 minutes. Ensure food is piping hot. 

To Reheat in Microwave

: 

Microwave Cat E*850W* full power for 7 minutes, rest, 5 minutes.

 Pierce film. Cook on full power for 7 minutes, rest for 1 minute & stir, cook for 5 minutes. Remove film carefully as contents will be very hot.