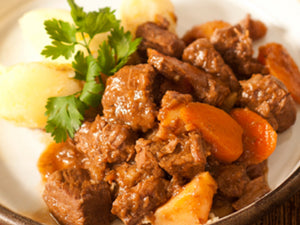 Beef & Guinness Casserole
Slow cooked local lean Irish Beef in a rich guinness and herby beef stock with chunks of carrot, onion, parsnip and creamy mashed potato.
Serves 1
All ingredients are prepared and cooked by hand.
Ingredients
Irish Beef,potatoes,guinness(gulten) carrot, onion, parsnip, ,flour(gulten) , dried rosemary, , tomato puree, sugar, sunflower oil, milk, butter(milk)salt and pepper.
Allergens: gulten (Guinness & flour), milk.
Reheating Instructions
For best results, cook from frozen.                   
To Reheat in Oven: Oven fan 170'C *Electric 190'C *Gas 5 for 40 minutes. Pre-heat oven 170'C. Cook in centre of oven for 40 minutes. Ensure food is piping hot. 
To Reheat in Microwave: Microwave Cat E*850W* full power for 6 minutes, rest, 4 minutes. Pierce film. Cook on full power for 6 minutes, rest for 1 minute & stir, cook for 4 minutes. Remove film carefully as contents will be very hot.